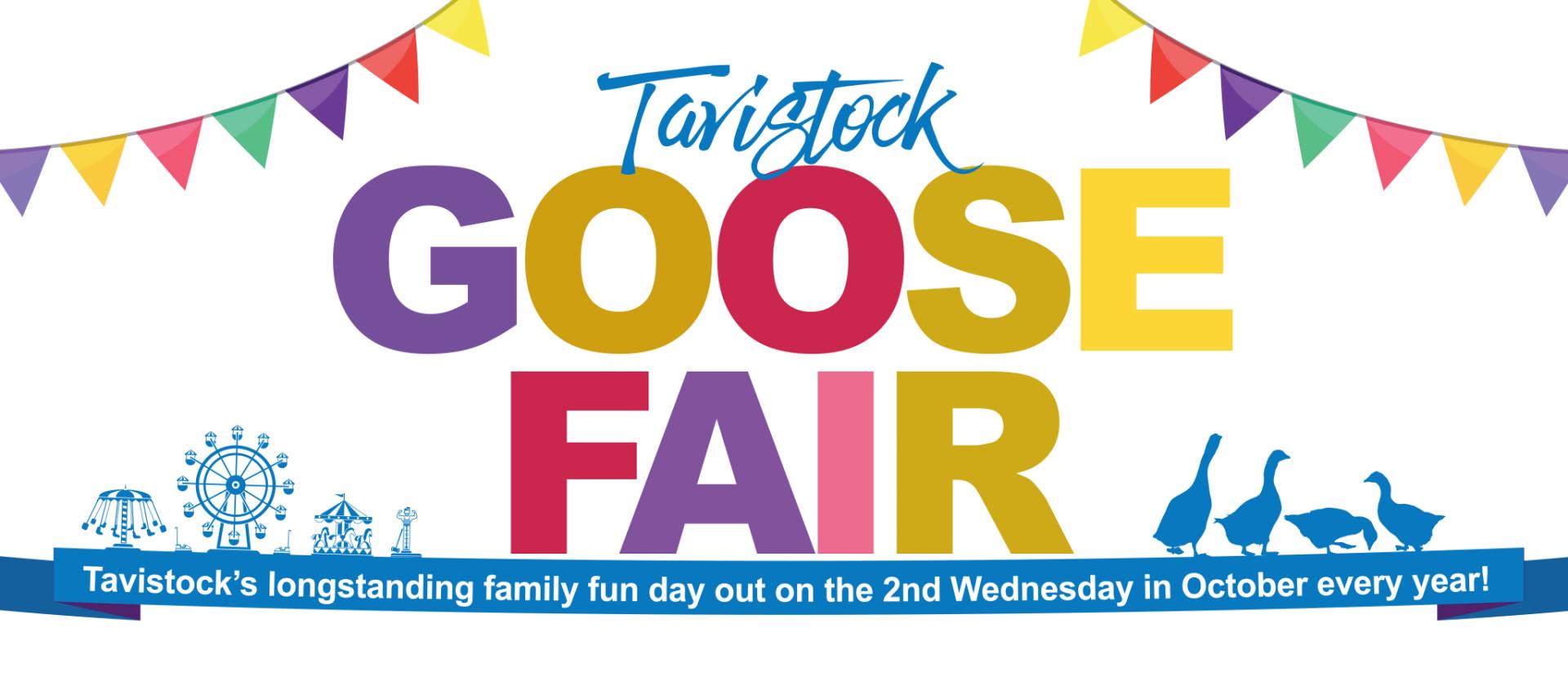 Goose Fair will be back on Wednesday 9th October 2024!
The annual Goose Fair in Tavistock dates back to the early 12th Century, and now the Fair is held on the second Wednesday in October each year.
Market traders come from all over the country to sell their wares and provide entertainment. Stalls and side shows are set up in the centre of the Town, and some 200 spaces are let by the Town Council for traders and community groups. Further spaces in Bedford Car Park are let to members of the Showman's Guild by West Devon Borough Council with the car park being shut for the whole Goose Fair week.
Below is a guide to some of the traders who joined us in 2023. 
| | | |
| --- | --- | --- |
| Business Name | Products | Website/Social Media |
| 677 Fabrication | Metal artist making sculptures of animals/flowers from recycled metal and cutlery | https://www.facebook.com/677fabrications/ |
| 165 Coffee and Provisions | Horsebox selling hot drinks and cake | https://www.facebook.com/165coffeeandprovisions/ |
| Absolute360  | Sportswear and lifestyle clothing  | www.absolute360.co.uk |
| Alan Jenkins | Catering Unit: Burgers, Hot-dogs,sweets & refreshments |   |
| Amaze Brush Valeting | Demonstration | https://amazebrush.com/ |
| Anderton & Rowland | Catering: hotdogs and candyfloss, children's ride |   |
| Arfran Rafiq  | Childrens & Adults Hoodies & Crystal Home Ordanments |   |
| Asif Clothing | Ladies Italian & French Fashion |   |
| Authentic Thai Food Ltd | Thai Street Food | www.authenticthai.catering |
| Bagzz SW | Beautiful ladies and gents bags | https://www.facebook.com/BagzzUK/ |
| Beckford's Rum  | Family producer of flavoured rums - sealed off sales and 5ml tasters | www.beckfordsrum.com |
| Ben Smith  | Basket Ball Game | www.facebook.com/jadeandbensfoodandgames |
| Best-Tea Bubbles | Bubble tea and Asian snacks | https://www.facebook.com/profile.php?id=100091965079908 |
| Big Bakes Bakery | Handmade in Devon Cupcakes, Cookies, Traybakes  | www.bigbakesbakery.co.uk |
|   |   |   |
| Bossy Shoes | Womens and childrens footwear | www.bossyshoes.com |
| Burnt Star | Sweatshirts and T-shirts | https://burntstar.co.uk/ |
| C & G Catering | Catering: Noodles, Burgers, Baguettes, Candy Floss |   |
| C. Farrell | Junior Monster Trucks ride/Catering unit: Hot dogs, burgers and drinks |   |
| C. Matthews Toy Store | Toys |   |
| Cakes by Lucy | Handmade cakes and cold drinks | https://www.cakesbylucy.net/ |
| Cards/U/Like | Christmas Cards, Calenders, Toys  |   |
| Catley Chilled Foods Ltd  | Chilled & Ambient Food, fresh meat sales |   |
| Charlotte Mansell | Vegetable dicing demonstration |   |
| Cherry Tree Preserves  | Jams and Preserves |   |
| Chris's Textiles | Bedding, Linen, Towels, Underwear & Household Goods  |   |
| Churros El Quijote  | Churros with chocolate dip  | www.facebook.com/ChurrosQuijote |
| Chuwen Catering | Catering - Burger Van, Hot Dogs, Chips & Refreshments |   |
| Claire's Little Creperie | Crepes, drinks and candy floss  |   |
| Coffee and Cream | Confectionary, chocolate boxes, biscuits, greeting cards, hampers | https://www.facebook.com/TavistockPatisserie/ |
| Collector's Lounge | Pokemon/Lego, plushies, toy figures |   |
| Cookie Queen | Homemade cookie sandwiches/cookie pie | Facebook: cookiequeenuk |
| Cornish Crepes | Catering: Freshly made Crepes  |   |
| Country Cuisine | Catering: Coffee and donuts, burgers, roast pork,bacon rolls |   |
|   |   |   |
| Crafty Duck | Handmade pebble and button pictures | https://www.facebook.com/profile.php?id=100063463211696 |
| Cut the Mustard  | Freshly cooked seasonal produce cooked on a barbecue |   |
| Dartmoor Deli | Delicatessen | www.dartmoordeli.co.uk |
| Dartmoor Whisky | Small batch whisky distillery | https://dartmoorwhiskydistillery.co.uk/ |
| David Mall | Casual wear |   |
| Devon Rum Company | Artisan Rum | www.devonrumcompany.com |
| Dough Bros Bakery | Handmade doughnuts  | facebook.com/doughbrosbakery  |
| Emma Cole  | Carvery Unit & Mobile Bar | www.coleamusements.co.uk |
| Fat Pig Central  | Pork Scratchings  | fatpigcentral.com |
| Fillies & Fizz  | Mobile Bar: Horse Trailer selling cocktails and soft drinks  | www.facebook.com/filliesandfizz |
| Flapjackery | Homemade Flapjacks & Fudge | www.flapjackery.co.uk |
| Fresh Fries | Gluten free loaded french fries and soft drinks | https://www.facebook.com/profile.php?id=100093583264562 |
| G.C Bullock & Sons  | Bedding, Towels, Socks, Underwear, Pet Beds |   |
| GandT Ltd | Handcrafted Cornish gins, vodka and rum | https://www.facebook.com/watch/gandtealtd/ |
| George Gercs Wholesale Ltd | Towels, Socks, Household & Textiles  |   |
| Good Grill Charcuterie | Award winning charcuterie |   |
| Good Grill Game | Devon Handmade Gourmet Burgers (venison, dry aged beef) |   |
| Granny Jacq's Sweets | Sweets |   |
| Hawthorne Saddlery | Childrens' toys, enamel signs, dog leads and accessories |   |
| Healeys Cyder Farm  | Draft Cyders & Bottled Cyder - consumption on site and off sales  | https://healeyscyder.co.uk/ |
| Hedgerow Coffee and Cake | Barista drinks and homemade cakes | Facebook: Hedgerow Coffee & Cake |
| Holly Jolly Hampers  | Handmade Giftware; Handmade Pottery, xmas crackers, slow gin, decorative slates  | www.hollyjollyhampers.co.uk |
| Home Farm Cornwall | Homemade Chutneys & Scotch Eggs  | www.homefarmcornwall.com |
| HOTT Group | Fashion |   |
| Hungry Hog South West  | Catering  - Hog Roast |   |
| Jeannie Baxter | Sweets |   |
| Jellyfish Gin (The Infused Gin Company Ltd) | Cornish Gin - sealed off sales and tasters  | www.jellyfishgin.co.uk |
| Jethro's Marinades | Marinades, sauces and pork crackling | https://www.jethros.co.uk/ |
| K & V Graham | Catering - burgers and hot dogs |   |
| K Singh | Male & Female Clothing & Accessories, Footwear & bags |   |
| Kate Jane Sea Glass | Handmade sterling silver sea glass jewellery using sea glass from Devon and Cornwall | https://www.katejaneseaglass.com/ |
| Keffords Amusements | Juvenile Train Ride |   |
| Kelly Kefford  | Darts Game  |   |
| Klassie Kids | Childrens Fashion (Tutu, bows, Jewellery & Crystals)  | https://www.klassiekids.com/ |
| L & C Catering | Catering - burgers and hot dogs |   |
| L Devey | Catering - burgers and hot dogs |   |
| Lee Petulengro | Tarot Card Reading |   |
| Little Shed of Beers | Mobile bar in converted horse box selling local beers and ales | https://www.littleshedofbeers.com/ |
| Love Donuts  | Doughnuts, Sweets, Candyfloss & Slushies  | www.facebook.com/jadeandbensfoodandgames |
| M Devey | Catering - Burgers |   |
| Mall Clothing  | Ladies & Men & Childrens Fashion (Tweed, Wax Jackets, High Viz, Winter Wear) | www.mallclothing.co.uk |
| Mandeep Singh | Jewellery, home décor carpets and blankets |   |
| Master Coffee Company | Barista made coffee made with plant based milk.  Vegan chocolate, eggs and bars | https://www.instagram.com/mastercoffee_co/?hl=en |
| Michael Daley  | Chocolate Fountain  |   |
| Michael Wright | Magnetic Bangles and Hemp Cream  |   |
| Mila's Bakery | Cake Shop | https://www.facebook.com/milasbakeryplympton |
| Morrall Marketing | Pillows, throws and blankets |   |
| Mr Henry Chipperfield  | Catering - Hot Dogs, Burgers, Chips, Pork Rolls, Donuts, Tea & Coffees |   |
| Mr L Appleton | Amusement Arcade |   |
| Mr Nick's Mobile Desserts | Ice Cream Vendor - Offering Warm Desserts  | https://www.facebook.com/mrnicksmobiledesserts |
| Mr Rudi Wolf | Christmas Cards, Flowers, Light up items |   |
| Nab's Rocks | Mineral Jewellery, Handmade Crystal  | https://www.facebook.com/nabsrocks |
| Nicky's Glow Beads  | Candle Soaps | www.nickysglowbeads.com |
| Ozone International Ltd | Hats and accessories |   |
| Past to Present | Vintage and retro styling, tin and cast signs, metal stars | Instagram - _pasttopresent |
| Paul Attwell | Fudge |   |
| Perfect in Water | Hand made bathbombs, bath melts, bath salts and bubble bars | https://www.facebook.com/Perfectinwater/ |
| Perfectly Boo | Handmade hair wraps and headbands, sequin and silk kimonos | https://perfectlyboo.co.uk/ |
| Pizza Buona | Authentic woodfired pizza | https://www.pizzabuona.co.uk/ |
| PJ's Gourmet Sausage Rolls | Homemade gourmet sausage rolls  | https://www.facebook.com/gourmetsausageroll/ |
| Plenty Krafty | Toys |   |
| Plymouth Scientology  | Church - self-help, life improvement, stress testing |   |
| Powerbond Adhesive | Power bond glue and knife sharpening demonstrations |   |
| Pure Pet Food | Healthy dog food, treats amd supplements | https://www.purepetfood.com/ |
| Ripe Cheese | Artisan cheeses |   |
| Robert Mayne | Catering - burgers and hot dogs |   |
| Scents & Scentsibility | Wax melts, candles, home fragrance, bath products | https://www.scentsandscentsibilityltd.co.uk/ |
| Serenity Gifts  | Handmade novelty animals, crystal suncatchers, Pendants, Jewellery |   |
| Shane and Maxine Rowland | Catering - burgers, doughnuts and slushies |   |
| Shaun Oates | Ladies Italian Clothing and Accessories |   |
| Silver Circle Jewellery | Handmade Greeting Cards with Jewellery  | www.silvercirclejewellery.com |
| Sip Shed Ltd | Homemade Bottled Cocktails - samples and sealed off sales | www.sipshed.co.uk |
| Smokin Gun | Air rifle and air soft indoor shooting range and shop | https://smokingun.shop/ |
| Suhkdev Singh (Fancy Goods) | Crystal items/rugs |   |
| Surf & Turf Kitchen | Homemade scotch eggs & pastries  | www.surfnturfkitchen.co.uk |
| Sweet Treats | Pick & mix, general confectionary, candy floss, American sweets, slushies, ice cream | https://www.facebook.com/Sweet.Treats.Shop.cc |
| T Jenkins | Sweets |   |
| Tamara Landscape Partnership | Promoting the Tamar Valley - including activities for children/adults | https://tamaralandscapepartnership.org.uk/ |
| Tavistock Rotary Club | Bric A Brac  |   |
| The Fudge Cottage Ltd | Handmade Fudge & Nougat |   |
| The Gourmet Greek  | Catering - Athenian / Greek street food  | www.thegourmetgreek.co.uk |
| The Heart of Africa Ltd  | Traditional Southern African Cured Meats & Giftware  |   |
| The Kraabu Tree | Finest dusters/brushes etc made from natural materials | https://thekraabutree.co.uk/ |
| The Ruck Shack | Rucks sacks, bags and accessories |   |
| The Silver Treasure Chest  | Jewellery, Antique Silver , Designer Clothes |   |
| The Wrap Shack  | Catering - Wraps  |   |
| Toys Galore | Sensory items, toys, gifts, hats, accessories |   |
| Travellers Finds | African creations  |   |
| Union Street Trading | Sale of Clearance Stock - Bags, Shoes, Perfumes |   |
| Urban Country Chic | Country clothing | www.urbancountrychic.co.uk |
| Vander Hill Nurseries | Bulbs, plants, garden furniture |   |
| Victoria Pearson | Catering - fresh churros and drinks |   |
| Violet's Collection | Sweatshirts, hoodies, hats, gloves and accessories |   |
| W Whitelegg | Sizzler Twist Ride |   |
| Warm and Dry | Outdoor waterproof, breathable clothing, accessories and printed leisurewear |   |
| Young Again  | Clothing | www.youngagainclothing.com |
| Young Baristas | Sustainable freshly roasted coffee.  Gluten free homemade cakes | https://www.facebook.com/youngbaristas |
| Zip Promotions | Handmade Jewellery, Hats, Umbrellas, Crochet, Friendship Bands, Children Toys  |   |