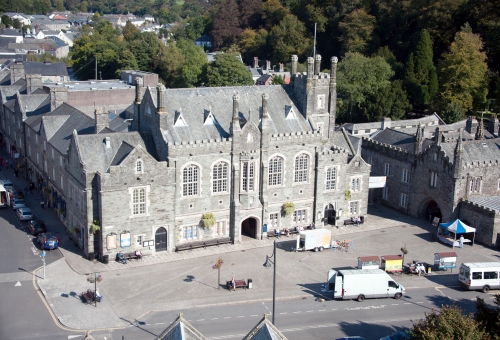 The Town Hall was designed by Edward Rundle, architect to the 7th Duke of Bedford. It was opened on the 2nd February 1864 with a Grand Ball which went on until 4 a.m. as reported by the Tavistock Gazette of the day.
The building at the time also housed a Savings Bank, Parish Council offices and a Market Keeper's residence. It was built over the site of Mathew Street, Lower Brook Street and Lower Market Street.
Constructed of local stone in the Late Perpendicular Gothic style, it boasts a stunning main hall measuring 64ft x 42ft, with panelled walls and a superb maple floor, along with other historic and interesting rooms including the Mayor's Parlour.
Due to radical new taxation laws in 1910, the Town Hall, along with other local buildings, passed from the 11th Duke of Bedford's estate into the freehold ownership of the Town Council. Nearly a century later and the building is still serving the community and forms the focal point of the town centre.
Thanks to Tavistock Photo for many of the Town Hall photos.