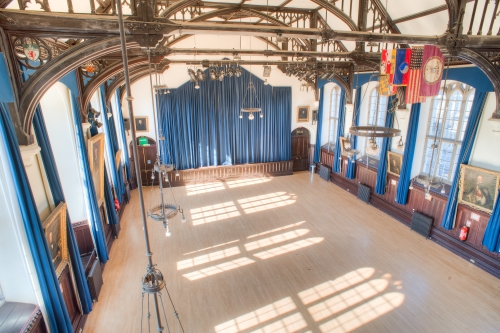 The Main Hall measuring approx. 64ft x 42ft is graced with a beautiful oak beamed ceiling, wood panelled walls, minstrels gallery, performance stage and maple wood polished floor. It is also the home to many portraits of local historical figures including Sir Francis Drake.
The Main Hall is fully licensed for entertainment and theatrical performances, so it is perfect for a multitude of different events.
To see our pricing structure download the price list below.
If you would like one of our promotional brochures, please click here
Performances
This room can also be used as a theatrical or concert performances hall. The stage measuring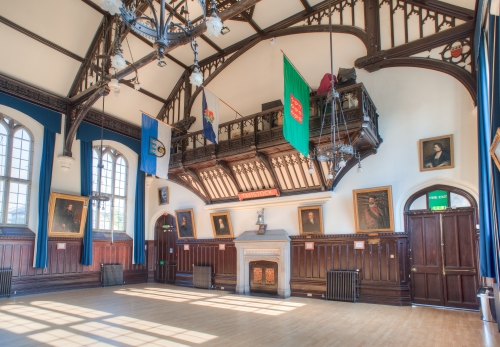 approximately 14ft x 12ft is available with or without additional stage extension (comes in 4ft x 4ft blocks) and is decorated with beautiful lava blue stage curtains. The room can be setup in many different configurations, which can utilise up to 200 chairs as a maximum allowance. The stage area is free to use but any extensions to it incurs an extra cost.
We have also introduced a specialised stage lighting rig, offering 12 stage spotlights including four DMX moving head lighting systems. When used, this reduces the amount of equipment any performer has to bring in to the hall, which should be very useful to them but also reduces any trip hazards from the floor area for us and any guests. Allow our knowledgable staff to provide technical support to help make your event/planning stress free at no extra cost. As with any reception, due to the nature of the event, the bar and Rundle room would be available to the hirer at no extra cost.
Gala Dinners / Parties
The Main Hall can be used as the ideal evening reception venue for your gala dinners or for any other special occasion. The tables either round or rectangular and chairs are supplied at no extra cost. We have a PA system available and the stage can be used for entertainment (live bands or DJ's). 
With the cost also includes our main bar and bar staff should you wish to use this facility. 
Conferences
The Main Hall, due to its size and central location, also makes for a superb venue for large conferences and seminars. The use of rectangular tables, chairs, PA equipment and loop system are available. Other items are available at extra cost including a digital projector plus screen and internet access.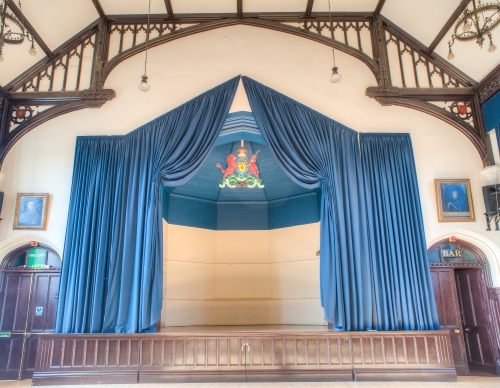 Exhibitions
The Main Hall hosts many regular exhibitions with the local "Tavistock Group of Artists" and "Drawn to the Valley" exhibitions to name a few. Please check our Events Diary for up coming events. 
Exercise
The hall plays host to many regular exercise classes throughout the week, see our Weekly Activities page to find out more.
Charities
We also host charity events such as the Grants Presentation Evening every year.